The month of October is designated breast cancer awareness month, and throughout the month there is a lot of information and education around the importance of getting screened. But it is important to remember there is also still a need for support for people after diagnosis. That is where the Pretty in Pink Foundation comes in. This North Carolina-based nonprofit organization provides financial assistance to uninsured and under-insured breast cancer patients throughout all 100 counties in the state.
Recently, the Pretty in Pink Foundation chose to host its inaugural Triple Crown Casino Night at Legacy Stables and Events. The black-tie fundraiser gave supporters a chance to come out, enjoy good food and have fun trying their hand at blackjack and poker, all while supporting a good cause.
"We chose Legacy Stables and Events for our first-ever casino night in part because of its convenient location in the Triad region, but also because the venue was gorgeous and provided the perfect setting for our event," says Sayla Nedell, director of business development for Pretty in Pink. "The people who came to our casino night remarked that the venue felt special yet not stuffy, and I felt that was the perfect atmosphere we were going for with our event."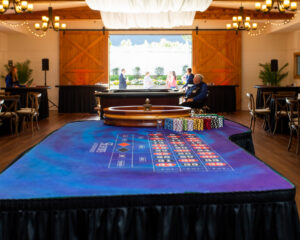 Pink Geraniums Tie it All Together
While the location and atmosphere were important, it was the exceptional customer service and attention to detail that really won over Nedell. "This casino night was a new event for our foundation and for Legacy Stables and Events as well, and they were with us every step of the way to make sure they met all of our needs," Nedell says. "We run a very lean foundation in order to maximize our ability to help those in need, which means our staff is small. Having Legacy Stables and Events there for us took a lot of pressure off me, so I could focus on other responsibilities."
The highlight of the event for Nedell came when she arrived at the venue to unload her car the day of the event. "I looked around and all of the gorgeous urns throughout the entire venue were filled with pink geraniums that were the exact match of the pink in our logo," Nedell says. "I was moved to tears, knowing all the thought and effort that had gone into that effort, from getting specific rights to the particular shade to making sure everything was planted in time for the event. It is that attention to the details, both large and small, that set Legacy Stables and Events apart from other venues."
The 2022 casino night was a great success, with donations exceeding the financial goals. And thanks to the great experience at Legacy Stables and Events, the Pretty in Pink Foundation has already booked the date for its 2023 Triple Crown Casino Night.