Ten years ago, if you had asked Robert Weisner if he would be interested in owning and operating a wedding and event venue, the answer would have probably been a resounding no. Entrepreneur, successful salesman, and business owner were a few of the many hats the Winston-Salem native wore over his long career, but wedding planner was not one of them. However, these days his enthusiasm for the business is a large part of what makes Legacy Stables and Events a success. "I love to see when someone comes to our property for a corporate event and they fall in love with the beauty of the place so much they end up planning their wedding here," Weisner says. Making those connections with people and letting the beauty of the property speak for itself are what Weisner does best.
The Story Begins …
It all began with a few things coming together at the same time. Weisner's granddaughters, Cate and Grace, were pursuing their interest in horse riding at some stables in the Winston-Salem area just about the time Weisner was ready to go into what he refers to as "semi-retirement." It just so happened he was looking for a new investment opportunity, and thought if he purchased stables of his own he could have the added benefit of spending more time with his granddaughters.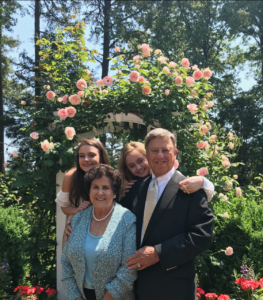 In 2014, Robert and his wife Robin became the owners of Legacy Stables, a 30-acre property with six stables in its barn. Right away he added 20 additional stables, allowing ample space to board horses and give lessons on the property for his granddaughters and others in the area interested in learning to ride. "I knew in retirement I wanted to do something that would allow me to spend more time with my granddaughters, and by sharing this interest in American Saddlebreds and horse riding, I was able to spend time with them on a regular basis," Weisner says. "They were coming to the property four or five times a week after school to ride or take lessons."
From Horses to Events
Grace and Cate both became accomplished riders, but as they grew up and went to college their time at the stables was less frequent. That's when Weisner's entrepreneurial spirit took over. "We had built something unique to Winston-Salem, making it very affordable for kids to learn how to ride, but so many of the students that came through here were encouraged by Grace and Cate and their own success," Weisner says. When people remarked about how beautiful the property was, he started to look at the space in a different way.
"I knew plenty of business owners in Winston-Salem who were looking for a place to hold parties, off-site training conferences and employee appreciation events in a more exciting place than just a conference room with four walls and industrial carpet," Weisner says. "These stables were beautiful and spacious, and I knew it wouldn't take much to turn it into a premier event center."
The first year Legacy Stables and Events was open to hosting outside events, Weisner expected to have around 40-50 weddings. They ended up booking 80. Based on that early success, Weisner went all-in on the event center business, renovating and expanding the facilities. The original stables, now called Grace Barn, contains Cate's Ballroom, which can hold up to 600 people, and Salem Stallway, a beautiful indoor-outdoor venue. Both names pay homage to his granddaughters, who inspired the business from the beginning. In 2021 Weisner completed the renovation of the other stables, turning the Forsyth Barn into a premier event facility. It's 22,000 square feet can accommodate up to 1,000 guests. The property is truly a family affair, as Weisner's wife Robin shares her horticultural talents in helping design and maintain a beautiful landscape that serves as a backdrop for the many wedding photo sessions held on the property. The beauty of the property has even inspired a new feature coming in fall of 2022, a Creekside venue with a 50-foot waterfall that will accommodate up to 125 guests. 
Just like the training facility was unique to the Winston-Salem area, Weisner has built a one-of-a-kind event destination for brides, non-profits and business owners to host memorable events. "I've been a salesman all my life, and now I'm selling love," Weisner says.